Streamlined Cafeteria Operations
Q Food Service is a
comprehensive web-based solution that streamlines free and reduced meal application management and point of sale operations.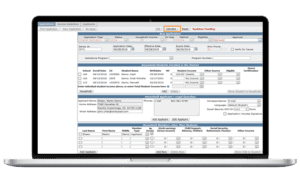 Optimized Food Service Eligibility
This module integrates with our Student Information System, Q, and greatly streamlines the logistics of determining food service eligibility.
With free and reduced meal application management, community surveys, and direct certification, Q Food Service is one module that can handle all of your district's cafeteria operations.
Efficient Point of Sale Transactions
Through Q Food Service's point of sale (POS), districts have all the necessary tools to manage their real-time cafeteria operations. Our solution supports multiple, high-speed POS registers including touch screens, USB, and Bluetooth scanners and scales.
Q Food Service POS also hides eligibility status to ensure confidentiality, and it works with Q Student Health to alert staff of food allergies.
"Q Food Service allows us to tap into students who are already enrolled in the SIS since it's integrated with Q. Other point of sale programs would require a regular extract of students and their information to keep the database current. This helps streamline operations and saves our districts valuable time."
April Terry
Ventura County Office of Education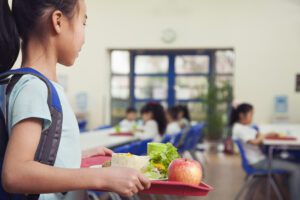 Customizable Cafeteria Preferences
Our Q Food Service modules allow customized preferences, payments, and security features. Users can set up messages and warnings for cafeteria workers related to student accounts and create balance and quantity restrictions for meal and ala carte items.
The transaction logging functionality also enables users to flag suspect transactions including deleted payments and changes in eligibility.
Learn More About Our Cafeteria Solutions
For additional information about Q Food Service, our support offerings, or to request a demo, please contact us using the form below.