District Data Analytics & Reporting
Q Analytics empowers users to quickly and precisely analyze district data and generate reports to pinpoint student challenges and find effective solutions.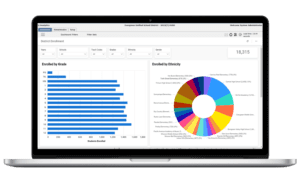 Data-Informed Decision Making
Q Analytics offers custom dashboards and widgets, enabling users to have their most important data easily accessible at their fingertips.
With this module, users also have the ability to digitally monitor student progress, performance, and achievements. District staff can then use this data to facilitate informed decision-making for constructive interventions and improvements.
Streamlined Access to School District Data
Through Q Analytic's user-friendly interface and adjustable settings, users can easily access and gain more control over their most vital district data.
Filters and drill down options enable administrators and educators to easily delve deeper into their district's data, saving valuable time that can be spent on their students.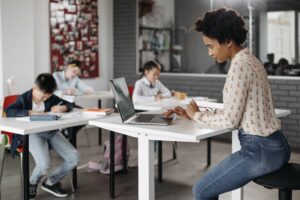 Customizable Administrator Permissions
District administrators have access to the setup tabs, which can be customized for various parameters like chronic absence calculation and graduation requirement eligibilities.
Administrators also have control over who is able to see specific pieces of data and dashboards, ensuring only those with authorized credentials are allowed to view different data points.
Learn More About Our Data Solutions
For additional information about Q Analytics, our support offerings, or to request a demo, please contact us using the form below.